Mask-ER-Aides are cartoon face mask patterns printed fabric, hand-drawn designs cartoon smiles ready to be crafted into washable/reusable personality face masks. Designs are printed on 100% cotton broadcloth fabric. Masks can be modified for small to large face sizes by adjusting pattern seam widths and elastic lengths. Click here for mask assembly instructions and video.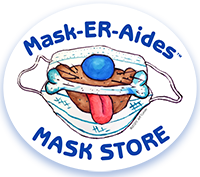 Note: Assembly Required – Masks are NOT ready to wear, you will need supplies and some basic sewing skills.
Buy your Mask-ER-Aides mask design now
Visit our Store to purchase your printed Mask-ER-Aides material
Cartoon Face Mask Patterns Fabric Specifications:
Mask pattern 9″ wide by 6.5″ tall
100% cotton broadcloth fabric
60×60 thread count
4.48 oz per square yard
Estimated shrinkage: length 3%, width 2%
Washing Instructions:
Use a phosphate-free detergent in cool water on a delicate cycle for best results.
Tumble dry low and remove promptly.
Iron on the unprinted side of fabric using standard cotton settings.
Mask-ER-Aides started in 2015 as funny cartoon faces hand-drawn on surgical masks. The original masks were designed to bring a smile to the faces of those who cannot see smiles on their visitors' faces. These patients spend days or weeks staring at the same blank blue/white/sterile rectangle. These blue rectangles hide the smiles, frowns and often personality of the person wearing the mask.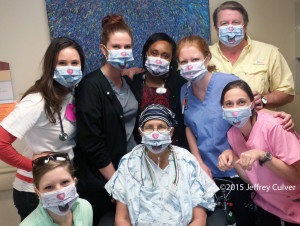 Jeff's hand drawn cartoon face mask patterns were an instant hit with the nurses and doctors in the isolation area where his wife Stacey was confined due to her Acute Myeloid Leukemia. Soon the nurses and doctors on her floor requested cartoon masks of their own. Smiles and laughter started seeping into the oncology isolation department of Carolinas Medical Center's main hospital and Mask-ER-Aides was born.