Description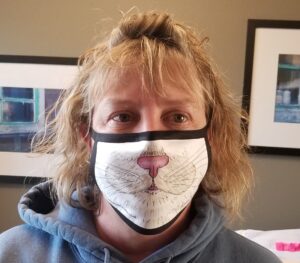 Hand drawn cat face mask including pink nose, cheeks and plenty of whiskers that will make everyone calm and comfortable.
The cat face looks like it is uniquely hand drawn on each mask. The detail is amazing and the masks are fun to wear.
These face masks are super comfortable with the lightweight fabric yet multiple layer protection. The nose clip helps minimize glasses fogging and keeps the mask comfortably in place. The adjustable ear loop is not a bead but a flexible and comfortable silicon sleeve.
Mask Fabric and Construction
Hi-Tech Cooling fabric – quick absorbing and quick drying
Adjustable ear loops
Nose clip for snug, comfortable fit
Not intended as substitute for traditional N95 masks or medical grade masks.
Cat Face Mask Care Instructions:
Hand wash and hang to dry
Masks can be put inside a mesh bag and washed delicate cycle with other garments in the washing machine and then hang dry