Description
Mask-ER-Aides Happy Puppy Face Mask is a hand drawn cartoon of a dog's nose, whiskers and tongue sure to bring a smile to everyone that sees it. This printed fabric mask is easily assembled with common sewing supplies.
Material: The Happy Puppy Mask-ER-Aides design is 9″ wide by 6.5″ tall 100% cotton broadcloth fabric.
60×60 thread count
4.48 oz per square yard
Estimated shrinkage: length 3%, width 2%
Wash prior to assembly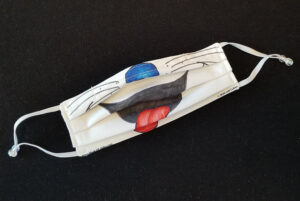 Size: Assembled mask size can be customized to fit small to larger faces.
For small to medium size mask using 1/2″ seam allowance the finished size is approximately 5.5″ tall x 8″ wide
For a large maks use 1/4″ seam allowance, the approximate finished size will be 6″ tall x 8.5″ wide
Supplies: To complete the Happy Puppy Face Mask you will need
Backing fabric (100% cotton)
Lightweight or Featherweight Fusible Interfacing
¼" elastic
4 standard pony beads (optional)
rotary cutter or scissors
marking pencil
floral wire or Chenille pipe stem cleaner wire
pliers
For orders of more than 5 single face mask designs or a unique combination of other Mask-ER-Aides face mask designs, please contact pam@mask-er-aides.com